Interesting observation. I've also seen that sketch before, but I never realised that S.S. Anne was below Celadon City. Its amazing what can be seen with small details like that. The two things that made me believe that 0x0B was probably a key area was the fact that there is unused PokéMart data, and an old Hidden Palace thread where Koolboyman said that you can set an unused flag to allow the player to fly to it, but since that was drawn in 1990, I'm now less confident that it really was an unused location.
Also on the subject of Celadon City, it reminds me of the Celadon hotel, I'm really curious what it was there for, with the Capsule Monsters sketch having multiple Pokémon Trainers, as well as the "female protagonist".
http://cdn.bulbagarden.net/media/upload … _Hotel.jpg
The Capsule Monsters designs were presented at show(s?) in Japan, an interview with Satoshi Tajiri on a special episode of Game Center CX and published in books written by Game Freak. Game Freak sometimes also place concept art on their official website. I believe that the above is a scan from Satoshi Tajiri: The Man Who Created Pokémon. Here are a few more of Game Freak's books, though they don't seem to be the only ones and not all of them talk about Pokémon per se. See also Celebi23's page.
I am unsure if Satoshi Tajiri's other book about "TV Game Design" has many scans. I've only found one scan of the first page (pixel art of Pulseman and another character. unfortunately I can no longer find it), but the book has at least one screenshot of when Pokémon Red and Green were still in development. (note the weird SGB border)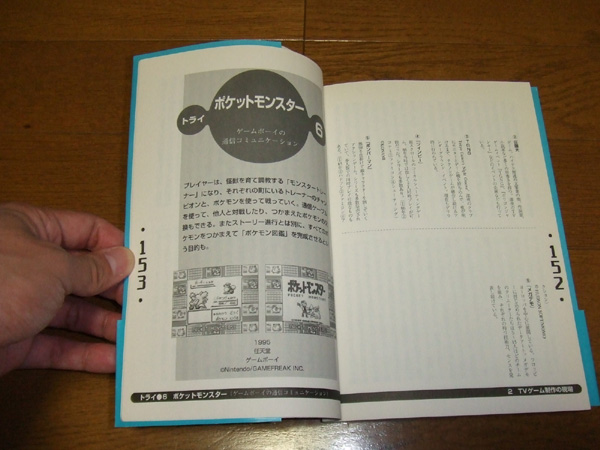 edit: Here's the Red/Green official strategy guide (I think). Note that Ape Inc. are credited instead of Creatures Inc, supporting that Ape Inc. became Creatures Inc. It uses another familiar piece of early artwork also shown on the boxes of the games. There was also an art book illustrated by Ken Sugimori, which features the female protagonist as one of its characters.
Last edited by Torchickens (2012-02-22 17:17:34)