Hack Name: Pokemon Gold: The Legendary Trainer Edition
Hack of: Pokemon Gold Version
Introduction:
I know it is a stupid title, but I can't think of anything else at the moment.
I've been working on this hack ever since I started posting here and I guess it is about time I make a progress thread on this site. I have one on the Nuzlocke Forums, but I feel like this site would be more appropriate. I neglected to show off what you guys have been helping me with.
Storyline: In a nutshell this hack has the same story as Pokemon Gold, but includes a sub-story or plot that involves a search for the Legendary Trainer. The Legendary Trainer is a trainer from Kanto who rose up, became the Pokemon League Champion, and was able to capture and control the Legendary Pokemon Lugia, a feat thought to be impossible. As a rising trainer from Johto you will become the new Pokemon League Champion and seek out the Legendary Pokemon Ho-oh, and challenge The Legendary Trainer, ending with a climatic battle that will determine who is the real Pokemon Master.
Features: Well quite a bit actually!
1.) Trainer rosters and levels have been modified to be slightly more difficult and interesting. The level curve should be more smooth throughout the game and steadily increase (instead of jumping all over the place in regular second gen).
2.) Gym Leaders and the E4 members have been modified to have harder teams and contain new team members. I'm not going to go overboard and give them all six Pokemon, but four-five should be the norm.
3.) Wild Pokemon encounters have been modified. Expect interesting Pokemon in routes. There are no more version exclusives, so all the exclusives of Silver, R/B/Y are available to catch at some point in the game (or as gift Pokemon). Also the levels of the wild Pokemon have been modified so if you feel the need to grind you shouldn't have to spend hours grinding against level 3 Bellsprouts forever.
4.) Many Pokemon have received new stats and new movepools. Most "derps" like Spinark and Caterpie (and their evolutions) received overhauls to make them useful throughout the entire game. I'm trying to at least make one small change to every Pokemon, even if it is just learning one new move, or changing the levels at which they learn moves, or a small stat change, etc....
5.) Trade Evolutions have been modified to be level-up evolutions or item evolutions.
6.) Some moves have had their Base Power, typing, and/or effects modified.
7.) Several new custom events have been scripted into maps, and many more should come as I progress along in the hack.
When will it be released: I plan on releasing betas as I reach certain "check points" in the game. Beta V1 should be released once I complete everything up to the 4th Gym. Beta V2 will be released once I complete everything up to the 8th gym... you get the idea. As of writing this I just finished everything up to the Ruins of Alph (first visit), so expect the first beta with-in a month or two (if I keep making good progress like I have).
Screenshots: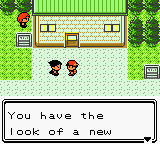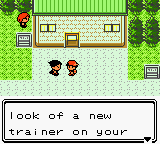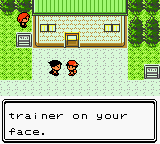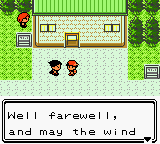 This is one of the custom events that takes place right after you leave Elm's lab after receiving your first partner. I run-in with Lance the Dragon Master!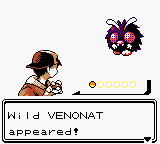 These are some of the Pokemon that are now available in the earlier routes of the game. Like I said earlier there are no version exclusives anymore in this game and interesting Pokemon can be found sooner!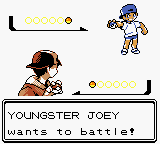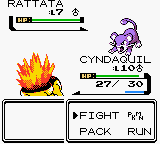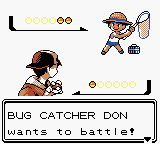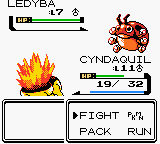 Here are some edits to the first few trainers. The levels start off higher and some trainers have different teams.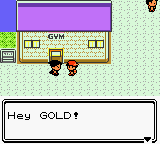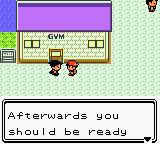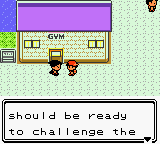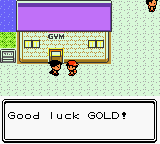 Now Lance blocks the gym until you finish up Sprout Tower. There is more dialogue to this conversation, but I'm keeping it hidden for now.
Sprout Tower won't be a walk in the park either. All Sage's are higher leveled and have diverse teams, which again I'm keeping under wraps as of now.
Sage Li has a mysterious two member team now. I wonder what two they could be?
Once you get the Flash HM, you're allowed to enter the gym!
It's not much but I modified the map in the Ruins of Alph. This is to help out with another custom event that takes place here.
This is an event that I scripted that I'm proud of. It was also the most difficult so far. It takes place after the first battle with your Rival, when you attempt to leave Cherrygrove City via the northern exit.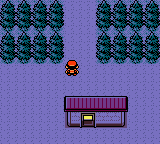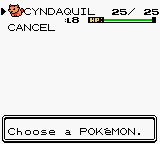 This is before the event.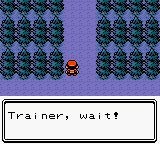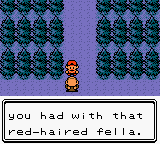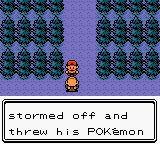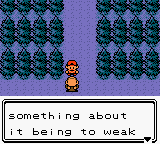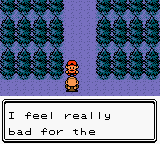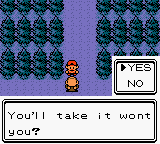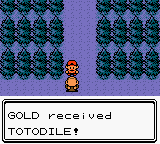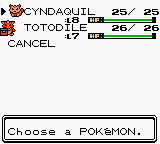 This takes place if the Gent Guide is still standing at the edge of the town when you battle your rival for the first time. Of course I gave him different dialogue if he was in his house when you battled your rival the first time. And if you don't want to Pokemon or your party is full.... well don't worry. You're able to visit him in his house later and when you talk to him he'll offer you the Pokemon that your rival threw away. Check it out!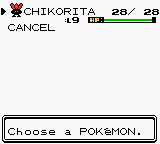 This is before the event. I chose a different starter to show off the dynamic nature of the script.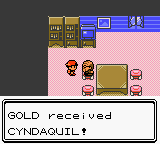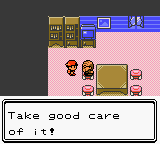 Well that was definitely a difficult script for a beginning hacker like myself. But I'm learning more and more every time I work on this project. Now I just have to finish my Ruins of Alph event and that should be all the custom events for awhile. They definitely take some time but make it worth it.
Conclusion: Well that all I have to show right now. I still have plenty of ideas I want to implement into this hack. My progress is generally slow and steady since I'm still a beginner at this, but I want to first beta out before the end of the year at the very least. If you would be kind to provide feedback that would be swell as well.
THANKS FOR READING! :D