Hack Name:

Hack of:

Introduction:
I'm SSJ4 Furanki previously known as Furanki Pkmn Master, SSJ4 Cartman, Cartman, and SSJ4 Furatman you might know me as that guy who used to crap out a bunch of South Park hacks, that never got finished and I used to think I was so awesome because of it. But, looking back at that I'm ashamed to have ever made those hacks. I'm surprised most of those were even allowed at places. Anyways, this is a hack where, I'm trying to make it seem more like an actual Pokémon game. Taking things from GB, GBC, GBA, and DS Pokémon games and adding my own personal touch to it. I'm actually going to try to finish this one, in my spare time. Except in the Summer, and breaks, where I have a lot of time to work on this. I originally started this hack on FireRed, but decided to switch to Emerald.
Storyline:
4 years later from (GRBY/RSE/FRLG) and 1 from (GSC/DPP/HGSS), you start out as a trainer in Red Town, in the region of Ohsai. You get to choose your first Pokémon from Prof. Bark, take on your rival, get all the badges, etc. You also have to stop Team Death. Team Death is pretty much a cult, trying to awaken Darkrai to put everyone in the World to sleep, and steal everyone's Pokémon and they're not afraid to kill someone in the process, they also want to use Spiritomb to scare people that are afraid of Ghosts, same with Gastly, etc. They're very Dark and Ghost type based, but they have a Pokémon they're going after far more destructive than Darkrai or Spiritomb. It's the very epitome of evil, could be considered an evil parallel to Arceus.
Features:
- New Gym Types: This game will be using type that aren't used all that often or earlier than usual.
- 16 Gyms!
- New Region: Ohsai.
- New Pokémon: Some Fakémon, Some 4th and 5th Generation Pokémon.
- Elite 4/Pokémon League is being replaced by a 10 or 11 floor building for battling in Ohsai.
Each floor goes up by 10 levels (Ex. 1-9, 10-19, etc.)
- You don't have to get the Pokédex, you can continue on with the game, however I recommend you still get it.
- Brand New form for Deoxys.
- Giratina only has its Origin Forme in this game.
- Go to 2 full regions: Ohsai and Johto, also parts of Hoenn.
- New TM's: Some will be changed.
- Some New Items: A few have been changed.
- The Mach Bike is now a "Hover Scooter", the Acro Bike is now a "Jetpack" I'm bringing in some science fiction.
- Lv. 1 Starters: (Dratini, Bagon, Gible)
- New Hero/Heroine
- New Rival(s): Your main rival's female, other is male.
- Mild cussing: There's a lot of damns, etc. from regular trainers, but actual swearing like the "F-word" or "S-word" will only be said rarely.
- New Regional Pokédex (Maybe?)
- New Evil Team/Bad Guys: Team Death
- All 1st, 2nd, 3rd Gen and other Legendaries catchable, plus whichever, Fakémon and 4th Generation legendaries I throw in.
- Cameos of characters from Death Note.
- Cameos of Pokémon characters, possibly from the Manga, but most game characters will make an appearance.
- Return of Team Rocket, Magma, Aqua, Galactic and possibly the new team from the 5th Generation games. Team Death and Galactic's confrontations may prove interesting.
- Some existing may get type additions or changes. For example, it always seemed weird to me that Sceptile never got a second type. When, both Swampert and Blaziken did. Sceptile will now be Grass/Dragon, Charizard will become Dragon instead of Flying, etc.
- A mix of Custom, HG/SS, and FR/LG tiles will be used. So, for example trees from all 3 will be used.
- All 3 of Ohsai's starter Pokémon can be caught later in the game. So, unlike the official games, it's just a matter of... which one do I want first? I can still catch the other 2 and more of my starter later.
- Due to HG/SS giving "Gold" a real name "Ethan", I'm giving Silver a real name, he's going to be called "Damion" in this, since that means "to kill", which in my opinion fits with "Silver's" personality.
- Everything I can possibly de-ALL CAPITALIZE, I will.
- HG/SS Pokémon Overworlds.
- Day and Night!
Screenshots:


Not the actual titlescreen yet, but this is what I plan on it looking like.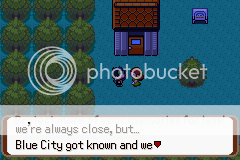 Betas:
English: None
German: None
Japanese: None
Spanish: None
Italian: None
French: None
Bugs:
Will eventually get down to listing them.
Credits:
Coolboyman: After playing Brown 2009, it gave me the will to try hacking again.
littlebaier: New L overworld(s).
Nintendo and Game Freak: For releasing and making the game this is being edited from (Emerald).
Synyster_Zeikku: Help in general.
All the tool makers that made the tools that can make this possible.
mervyn797: HG/SS Music Midis
zealot: Better Name suggestion for the main Legendary.
Green Charizard/PHO: Some of the DP Tiles.
Translators/translations:
German: Lati-Fan95 (Dialouge, which actually needs the translation), SSJ4 Furanki (Menus, Pokédex, Pokémon, etc. Things you could just check a German Emerald for.)
Japanese: None, as of yet.
Spanish: None, as of yet.
Italian: None, as of yet.
French: None, as of yet.
List of Pokémon replaced:
Coming Soon (Later)